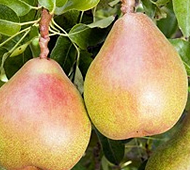 White Balsamic Vinegar
Produced in the traditional style, our white balsamic vinegar is from Modena, Italy. Flavors are all plant-based, natural juices or essence. All sulphites are naturally occurring.
Fall evokes the imagery of baked goods, mulling spices, and gorgeous green-gold pears dangling like jewels from bare branches. Our French inspired Comice Pear White Balsamic is sure to please. It makes an impressive glaze for roasted turnips, pork, baked squash, poultry, and roasted apples. Try soaking your raisins or dried cranberries in our Comice Pear before adding to oatmeal or using them in baked goods. Any salad made with stilton cheese absolutely cries out for a splash of Comice Pear White Balsamic along with a nice drizzle of toasty roasted walnut oil.