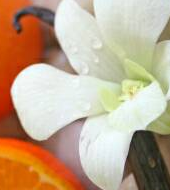 White Balsamic Vinegar
Produced in the traditional style, our white balsamic vinegar is from Modena, Italy. Flavors are all plant-based, natural juices or essence. All sulphites are naturally occurring.
Made from creamy, sultry Madagascar Vanilla and bright, fruity Cara Cara Orange. Pairs well with the fruity notes found in Koroneiki EVOO or blended with Organic Butter Olive Oil, which is beautiful on cream of wheat, oatmeal, or pancakes. Delightful with chocolate, fruit salad, in sparkling water, mixed drinks, drizzled over yogurt and ice cream.