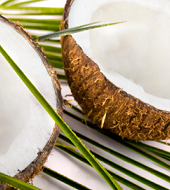 White Balsamic Vinegar
Produced in the traditional style, our white balsamic vinegar is from Modena, Italy. Flavors are all plant-based, natural juices or essence. All sulphites are naturally occurring.
Wonderfully sweet, pleasingly tart and redolent with the clean, natural flavour of coconut. Divine when paired with Perisan Lime, Onion & Cilantro Olive Oils or Toasted Sesame Oil. Fantastic dressing or marinade. Try it with grilled or baked chicken.