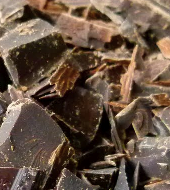 Dark Balsamic Vinegar
Produced in the traditional style, our aged balsamic condimento from Modena, Italy is aged using the Solera method for up to 18 years in chestnut, oak, mulberry and ash barrels. Our Four Leaf Quality Equivalent Condimento is exceedingly rich, complex and dense. No artificial flavorings, sweeteners, preservatives or gluten have been added. Flavors are all plant-based, natural juices or essence. All sulphites are naturally occurring.
Rich and thick, this balsamic resonates with the complexity of three different chocolates responsible for the depth of its flavour. Drizzle on desserts and fruits, or add to a cheese tray for a delightful appetizer. Drizzle over vanilla gelato, mix with fresh berries or add zing to your chicken molé sauce.