Wild Fernleaf Dill Olive Oil

INFUSED olive oil
Highly aromatic and vibrant, and savory.


Versatile, use it in dressings, marinades, with cucumbers, chopped salads, drizzled over spinach, fish, green beans, poultry, meat or popcorn.


Use in soups, egg dishes, creamy sauces, aioli or olive oil based mayonnaise, for making tartar sauce, roasted potatoes, potato salad, roasted and fresh vegetables, braised white beans, or for baking delectable herb breads and rolls.


Favourite pairing:
Sicilian Lemon, Oregano, Traditional, Pomegranate, and Champagne balsamic vinegars.
Ingredients: extra virgin olive oil, natural flavour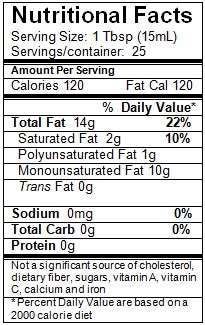 Suggested Uses
in dressings and marinades
with cucumbers, chopped salads
drizzled over spinach, fish, green beans, poultry, meat
in soups, egg dishes, creamy sauces, aioli, olive oil based mayonnaise
roasted potatoes, potato salad, roasted and fresh vegetables, beans
baking herb breads and rolls
Suggested Pairings
Dark Balsamic Vinegars
Champagne
Pomegranate
Traditional Balsamic
White Balsamic Vinegars
Grapefruit
Jalapeno White
Oregano
Sicilian Lemon
Recipes using Wild Fernleaf Dill olive oil
Bulgar Salad Bulgar Salad w/ Mediterranean Vegetables
Dill Olive Oil
A-Premium White Balsamic Vinegar
German Potato Salad German Potato Salad with Bacon, Eggs, and celery
Tarragon Olive Oil or Wild Fernleaf Dill Olive Oil

Lemon Dill Shrimp Lemon Dill Shrimp & Pasta
Wild Fernleaf Dill Olive Oil
Parmesan, Dill, Popcorn Light and tasty.
Wild Fernleaf Dill Olive Oil
Butter Olive Oil