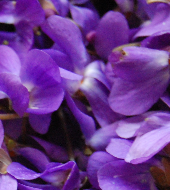 Dark Balsamic Vinegar
Produced in the traditional style, our aged balsamic condimento from Modena, Italy is aged using the Solera method for up to 18 years in chestnut, oak, mulberry and ash barrels. Our Four Leaf Quality Equivalent Condimento is exceedingly rich, complex and dense. No artificial flavorings, sweeteners, preservatives or gluten have been added. Flavors are all plant-based, natural juices or essence. All sulphites are naturally occurring.
Our Violet Balsamic Vinegar has a wonderful flowery scent and sweet, subtle taste. Our favorite pairing is with Lemon olive oil. Also a great pairing with Basil Extra Virgin Olive Oil for fantastic flavor combination. It's a great addition to salads, or sprinkle over grilled veggies, or drizzle on desserts such as cheesecake, custards and ice cream. Use it also to flavor white meats and poultry.