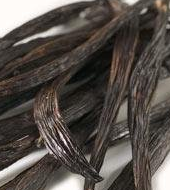 Dark Balsamic Vinegar
Produced in the traditional style, our aged balsamic condimento from Modena, Italy is aged using the Solera method for up to 18 years in chestnut, oak, mulberry and ash barrels. Our Four Leaf Quality Equivalent Condimento is exceedingly rich, complex and dense. No artificial flavorings, sweeteners, preservatives or gluten have been added. Flavors are all plant-based, natural juices or essence. All sulphites are naturally occurring.
Our Vanilla Balsamic Vinegar has sultry, fragrant Tahitian vanilla beans married with our barrel aged balsamic vinegar. The vanilla bean flavor is excellent for cakes, ice cream and cream based dishes. Try with fresh berries or drizzled over a warm brownie. Ideal to marinate meat, fish, vegetables with any of our citrus olive oils.