Red Cayenne Chili Olive Oil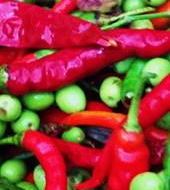 Fresh, whole, ripe cayenne chilies are crushed with Chetoui olives
A FUSED olive oil product


Made exclusively at our supplier's organic mill in Tunisia by crushing 12 pounds of fresh, whole ripe cayenne chilies for each gallon (7.6 pounds) of 100% organic EVOO.


The oil and fresh chilies are fused for two hours before decanting and filtering.


It's hot and aptly named 'chili-head heaven'!


An essential for North African fare: couscous, seafood, relish, salsa, roasted lamb, chicken and barbecue!


Favourite pairing:
Black Cherry, Cinnamon Pear, Fig or Raspberry and Lemon, Oregano, or Peach balsamic vinegars.
Ingredients: Chetoui Whole Olives, Whole Red Cayenne Chilis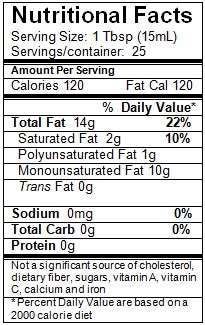 Suggested Uses
As a condiment to kick up your potatoes & roasted vegetables
In marinades and dipping sauces
couscous
seafood
relish
salsa
roasted lamb
chicken
barbecue

Suggested Pairings
Dark Balsamic Vinegars
Red Apple
Black Cherry
Black Currant
Cinnamon Pear
Espresso
Fig
Vermont Maple
Pomegranate
Raspberry
Tangerine
White Balsamic Vinegars
Honey Ginger White
Lemon
Lemongrass Mint
Oregano
Peach
Recipes using Red Cayenne Chili olive oil