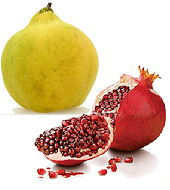 White Balsamic Vinegar
Produced in the traditional style, our white balsamic vinegar is from Modena, Italy. Flavors are all plant-based, natural juices or essence. All sulphites are naturally occurring.
This ruby jewel-toned white balsamic owes its tart, crisp flavor to Juicy California Grenada Pomegranates & Floral Winter Quince. Use in dressings, marinades, or as a glaze for chicken or pork. Perfect Pairings with Blood Orange, Persian Lime, Basil, or Herbs de Provence. Great with grilled chicken, as a glaze, or served with cheese.