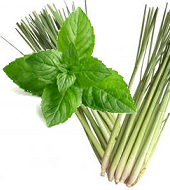 White Balsamic Vinegar
Produced in the traditional style, our white balsamic vinegar is from Modena, Italy. Flavors are all plant-based, natural juices or essence. All sulphites are naturally occurring.
Tart, crisp, clean and absolutely delicious. The natural flavors of Thai lemon grass and mint cooperate beautifully and make a dazzling base for marinades, dressings. For a taste explosion, add diced fresh, hot Thai chilies and cilantro. Use this Asian inspired marinade to dress your seafood salad, noodles or use for a dipping sauce.