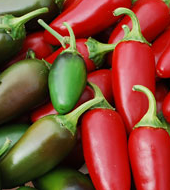 White Balsamic Vinegar
Produced in the traditional style, our white balsamic vinegar is from Modena, Italy. Flavors are all plant-based, natural juices or essence. All sulphites are naturally occurring.
This unique white balsamic gives you the flavor of jalapeno peppers without the tear-inducing heat. Great for snacking on fresh fish tacos with homemade salsa and guacamole. Add our Jalapeno White to our Persian Lime Extra Virgin Olive Oil and Latin dishes like grilled fajitas, nachos, or roasted corn. Amazingly versatile, this variety also works well in Asian dishes and can be used as a replacement for rice wine or white wine vinegars.